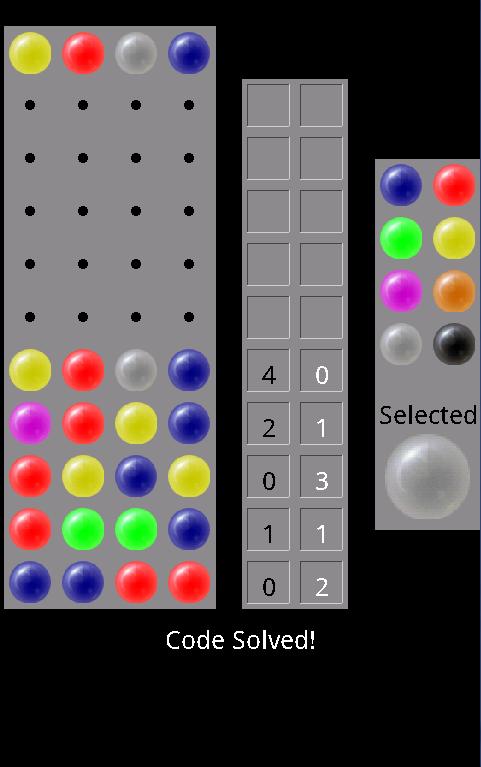 LGF Code Breaker Instructions
The aim of the game is to guess the combination of coloured balls chosen by your Android opponent.
There are up to 8 levels in a game. In the first level, you have to solve a code of 3 coloured balls. Each time you solve a code, you move up a level, until the last level, which has 10 coloured balls.
You have 10 chances to solve the code in each level.
To make an entry, choose the coloured balls from the right of the screen by touching them, and press the empty spaces on the board where you would like them to go.
The selected colour will be shown on the right of the screen.
When a guess row is full, a box with the word "Enter" will appear. Press this to have your guess marked.
Each guess will receive a Black Score and a White Score.
The Black Score will be the number of balls which are correct in both Colour and Position.
The White Score will be the number of Coloured balls in the guess which are also in the hidden code, but in the wrong position. .
Once a guess has been marked, you can start making the next guess.
If you get a Black Score matching the number of balls in the code, you have solved the code, and will move up to the next level.
If you fail to solve the code in 10 turns, the game will end.
LGF Code Breaker can be downloaded for free at the Android Market.